[Categories: Photography, Photography 101 Forever]
[These are permissible still photos of exhibits, taken by me for personal use.]
[Click on a picture to enlarge and zoom.]
At the DAM, the Denver Art Museum, an exhibition of Western movies, paintings, and sculpture.  Cowboy and indian, U.S. 19th century, wild wild west of course.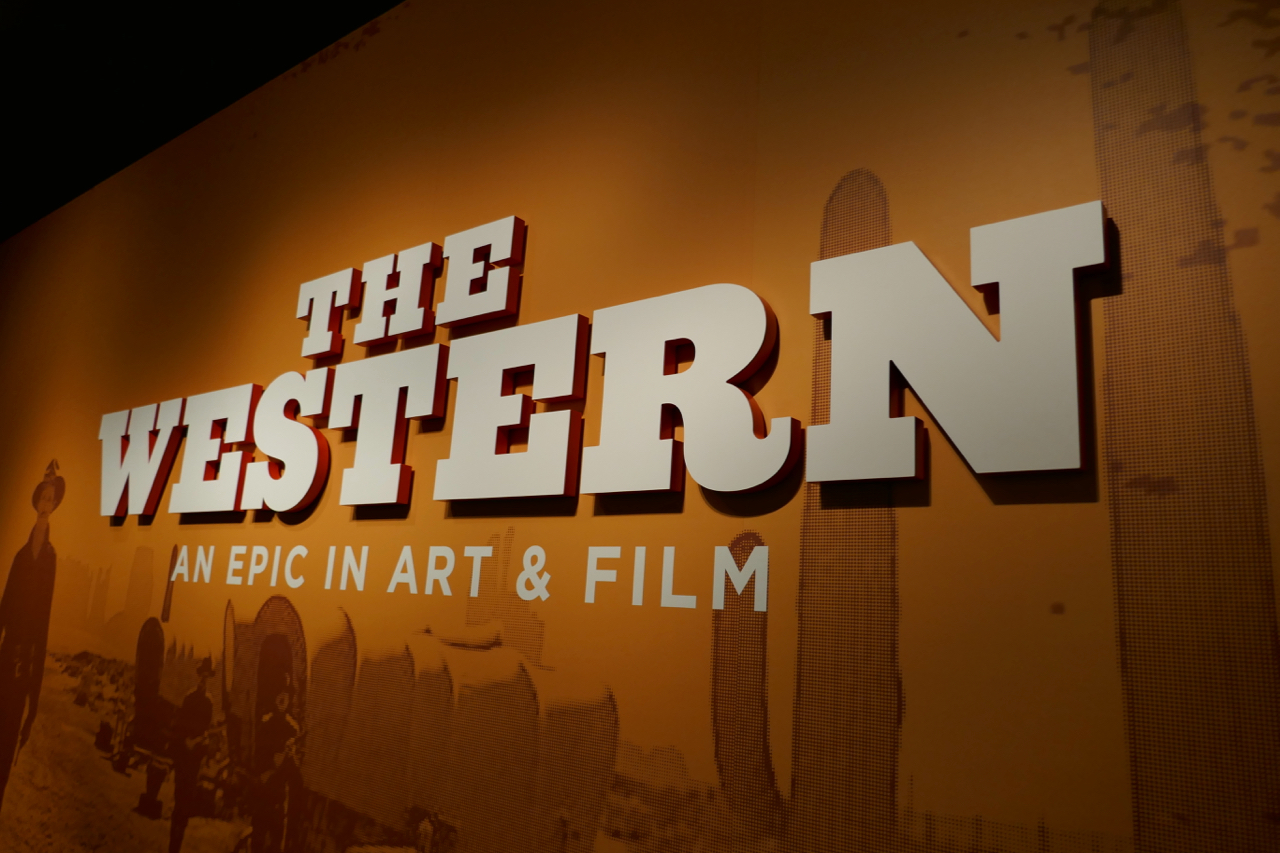 I had a childhood once.  Only once, but I had one at least.  In the world there are haves, have nots, have lesses, have mores.  My have/had was a childhood.  I was a lucky kid.
What captivated me then?  Playing in the woods.  Playing War or Cowboys and Indians in the woods.  Point and shoot with exploding vocal shots to go with our silent stick rifles.  Bang!  "I got you!" "Did not!"  "Did too!"  "Did not!"  A lot of shooting.  What's up with that?!
I also liked playing in the barn on my friend's farm.  Riding bikes.  Reading.  Hardy Boy mysteries. 'We Were There' books, historical fiction like 'We Were There at the Battle of Gettysburg'.
And the movies.  Saturday matinees.  Sci-fi like Tobor the Robot.  And big, big, black and white, decade(s) old western movies.  Cowboy heroes like Bob Steele and Ken Maynard. Randolph Scott.  Hopalong, Gene, Roy.  Gabby Hayes, the original old codger, was in everything.  "Why you.. young… whipper-snapper!  I oughta tan your hide!"  Huge cattle drives and stampedes with cattle pouring over hillsides in clouds of dust.  Gangs of rustlers or posses chasing them, 10 or 12 men on horseback wheeling into a tight turn, horses pressed together.  What a picture!  CUT!  THAT'S A WRAP!!
Tighter than this for sure: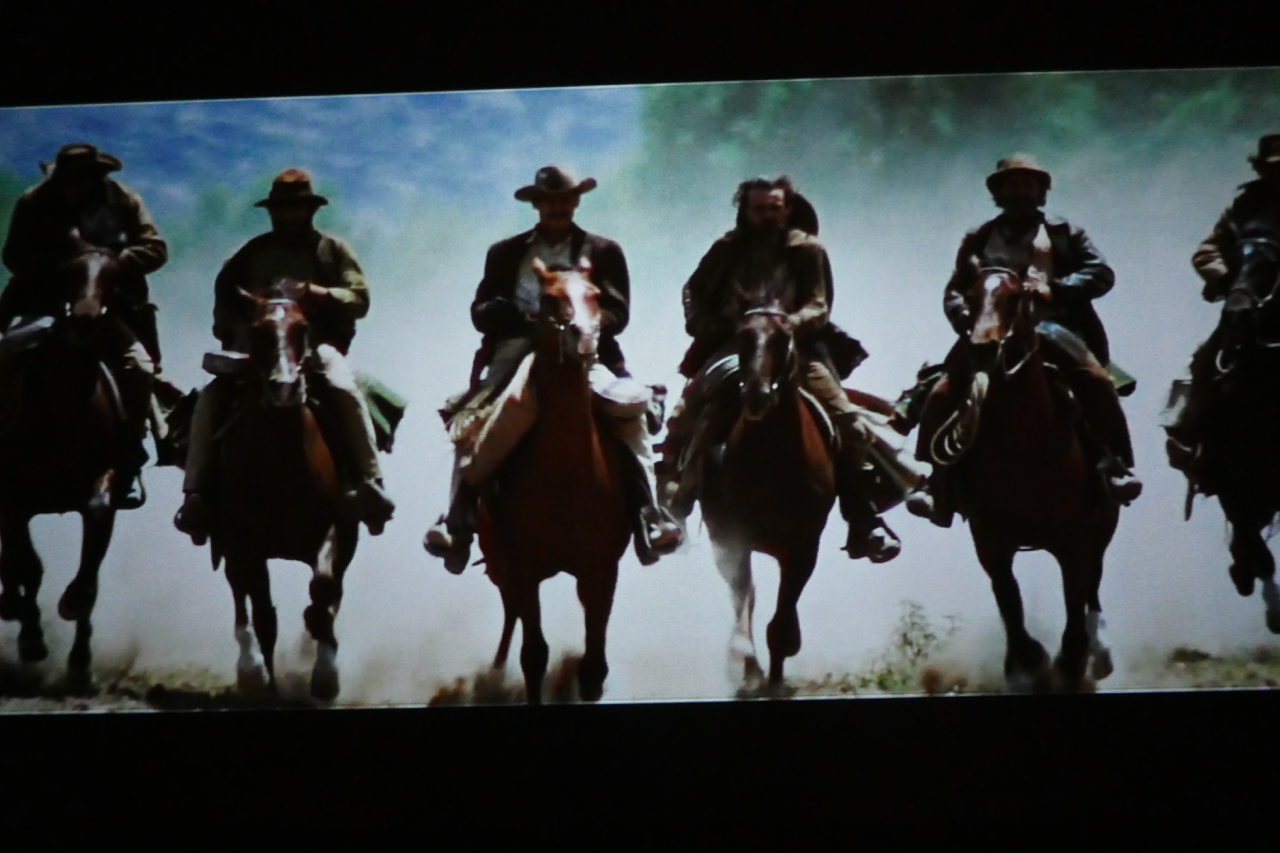 Movie clips like this played throughout the exhibit.  Director John Ford was featured, as well as spaghetti western master Sergio Leone.
Our excellent docent was Herb, elderly (I should talk), with a cane, and a fine appreciation of the western genre.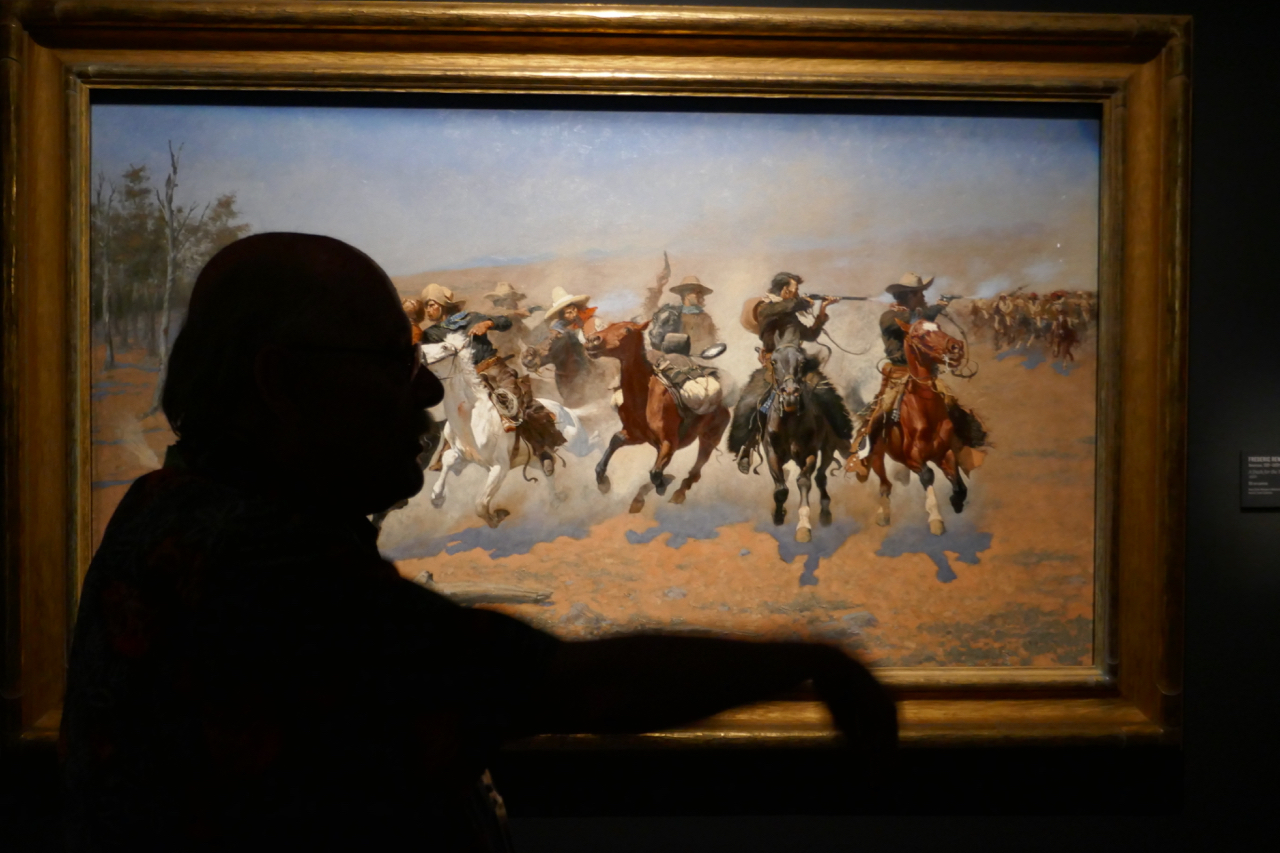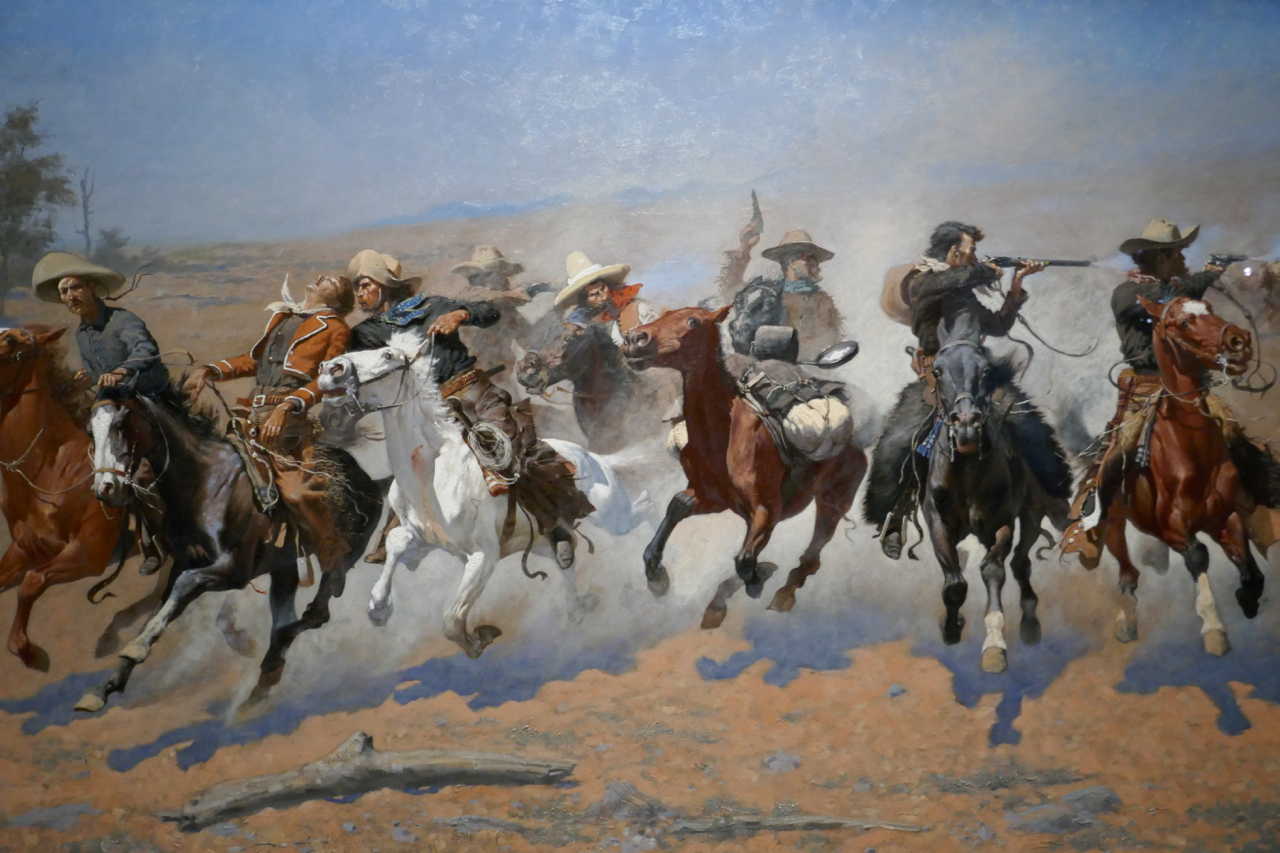 Fine western-themed paintings by Remington, Russell, Bierstadt and others were displayed.  As Herb told us, artists often painted from memory and landscapes were often stylized.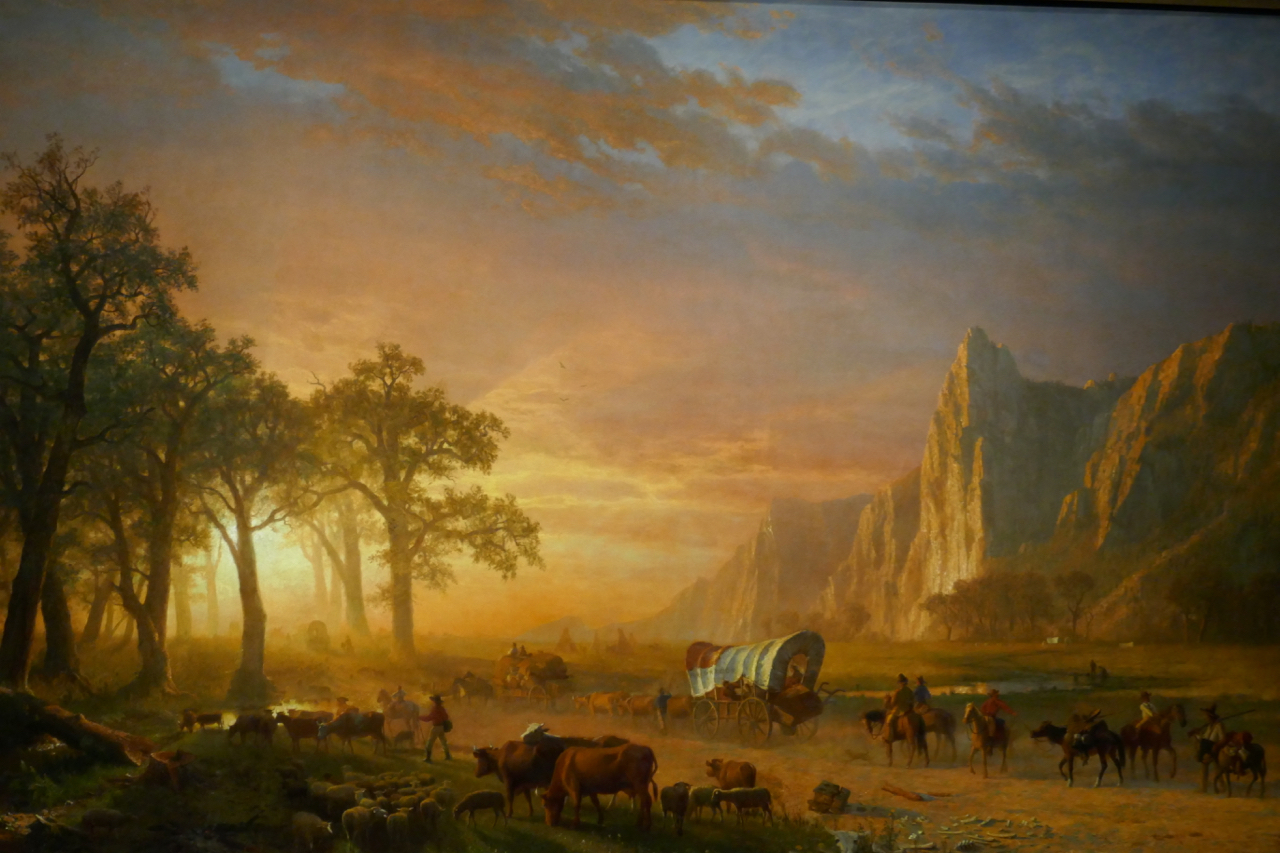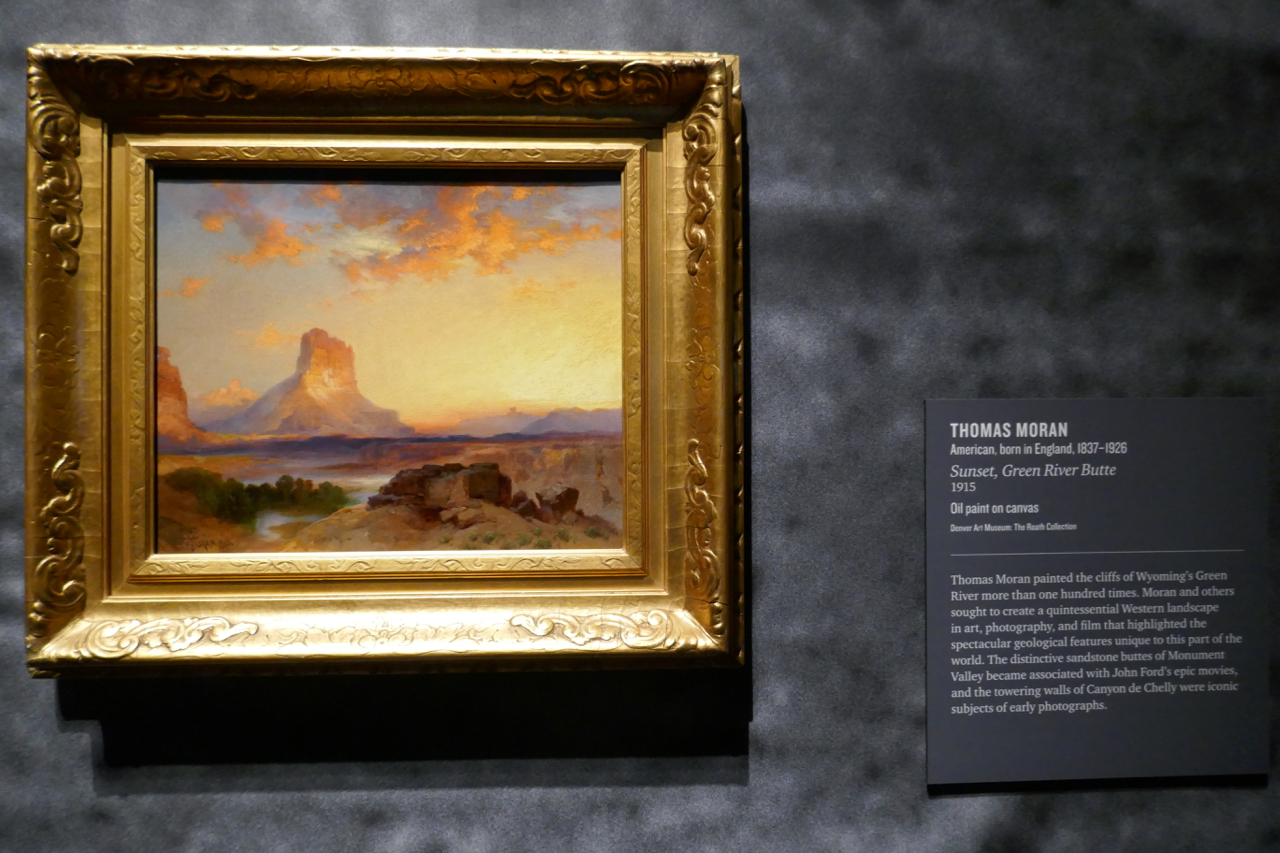 There were numerous sculptures.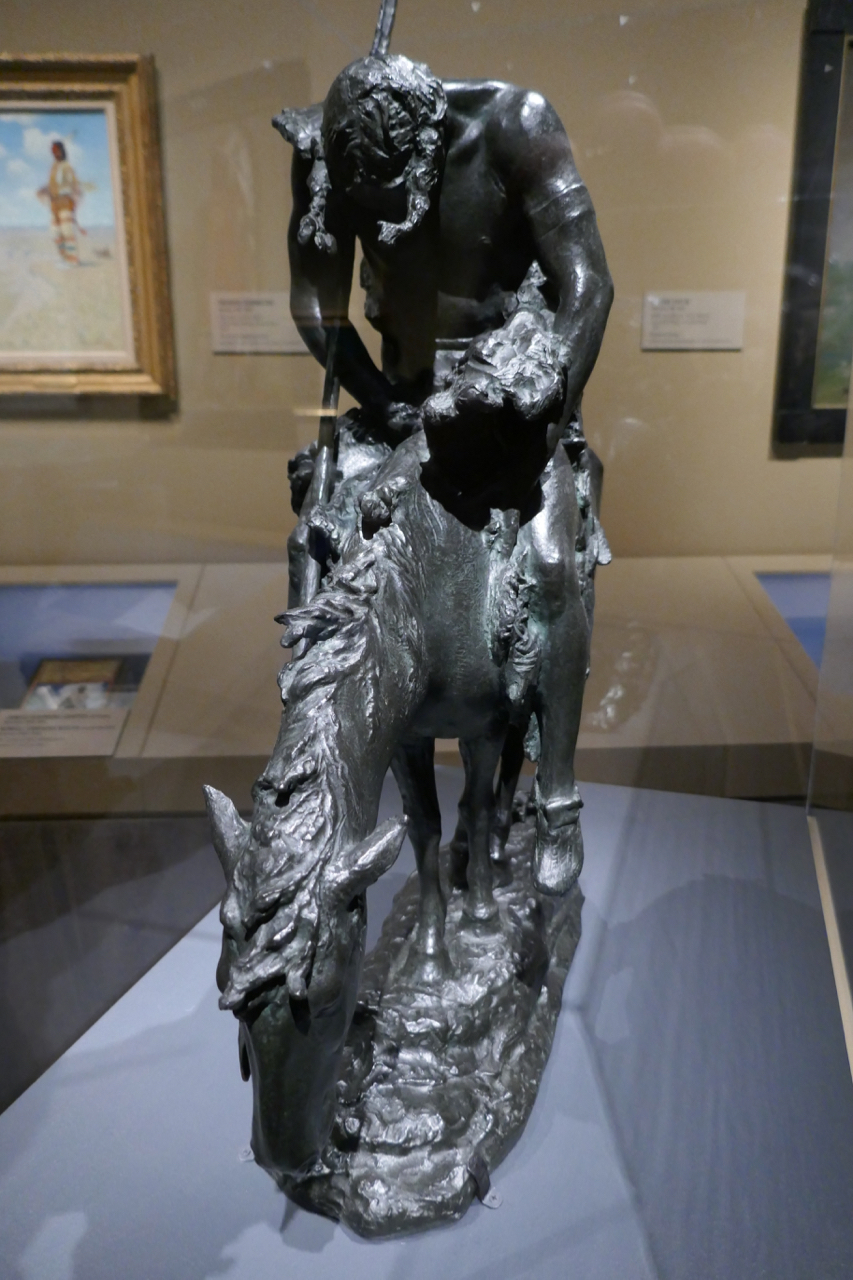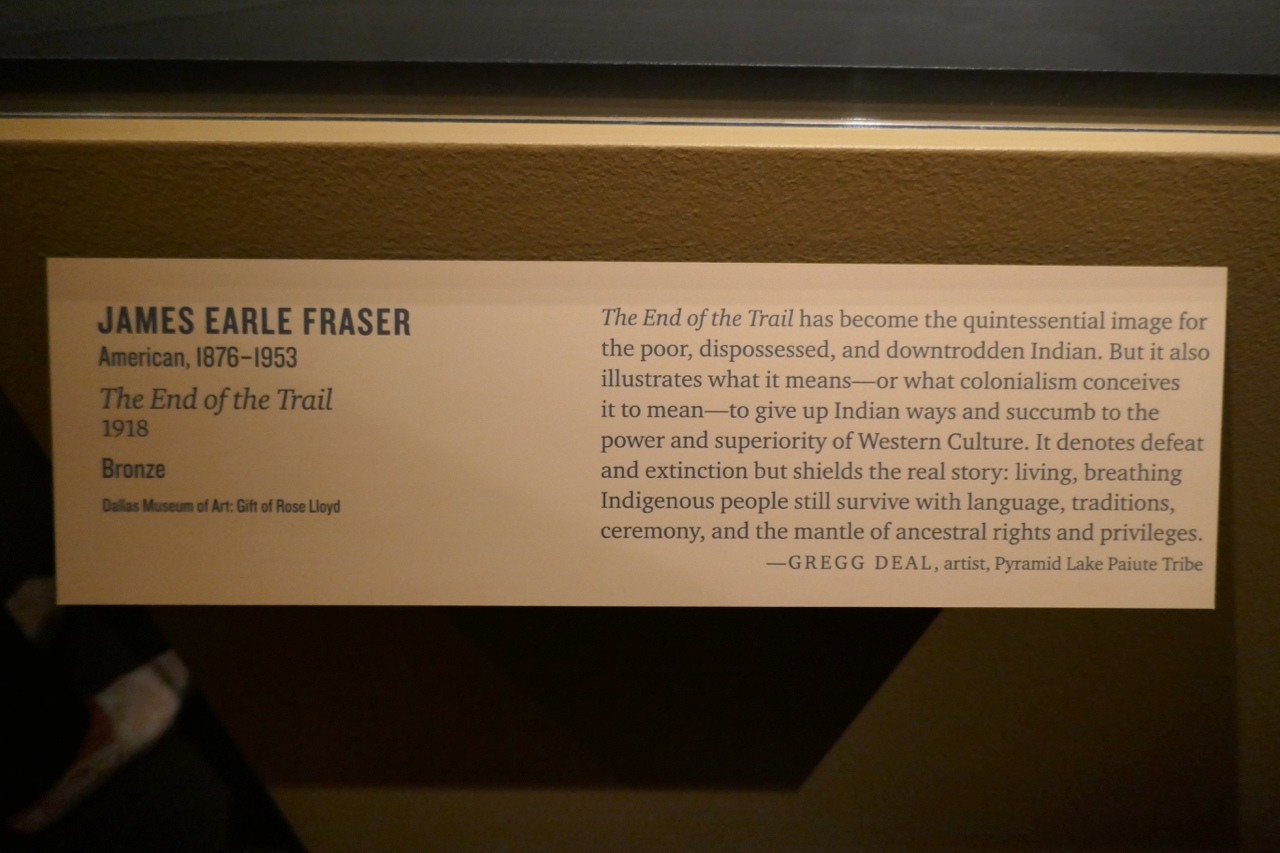 I couldn't get a good side shot due to people and exhibits around.  HERE is another view and info.
The very prolific C.M. Russell: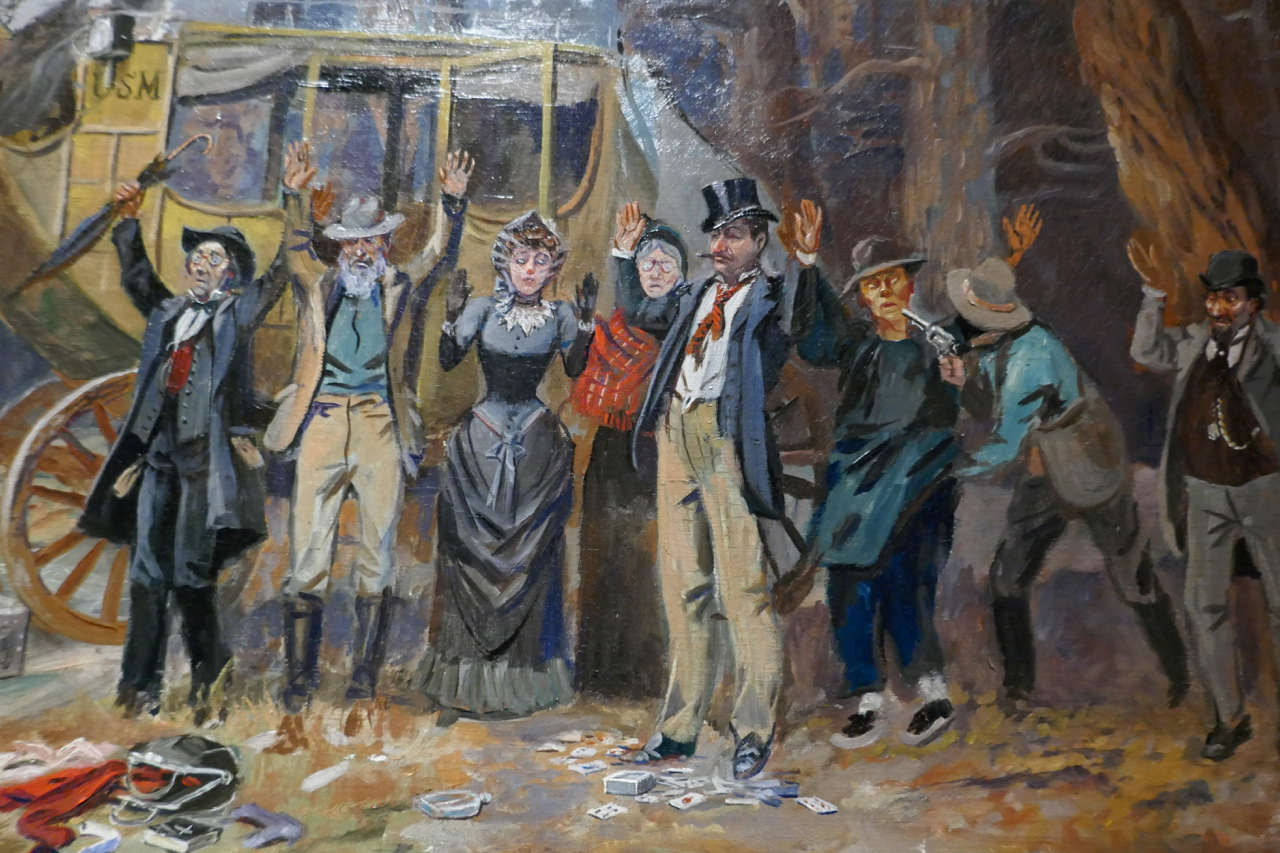 Another fascinating painting from a perspective point of view.  Herb noted that the gun 'follows' you walking back and forth in front of the painting: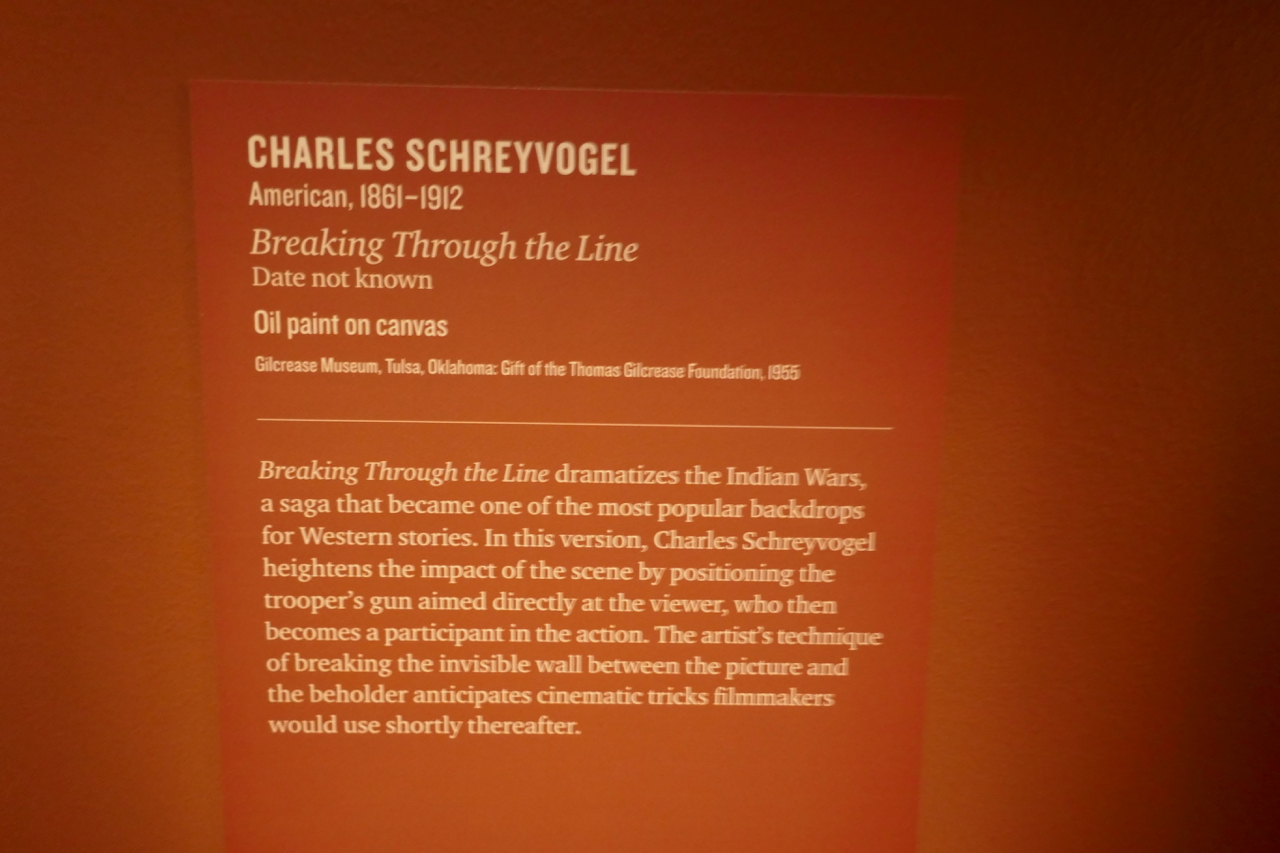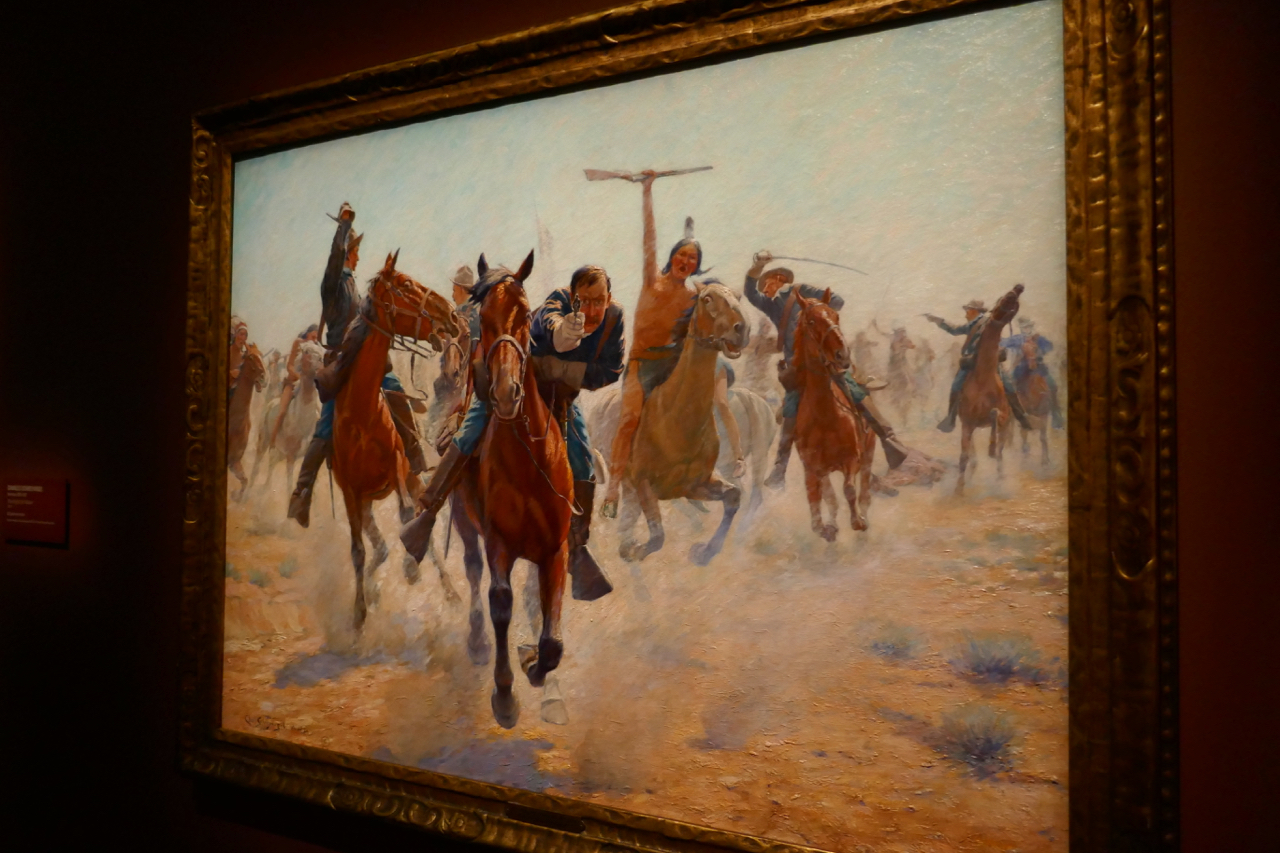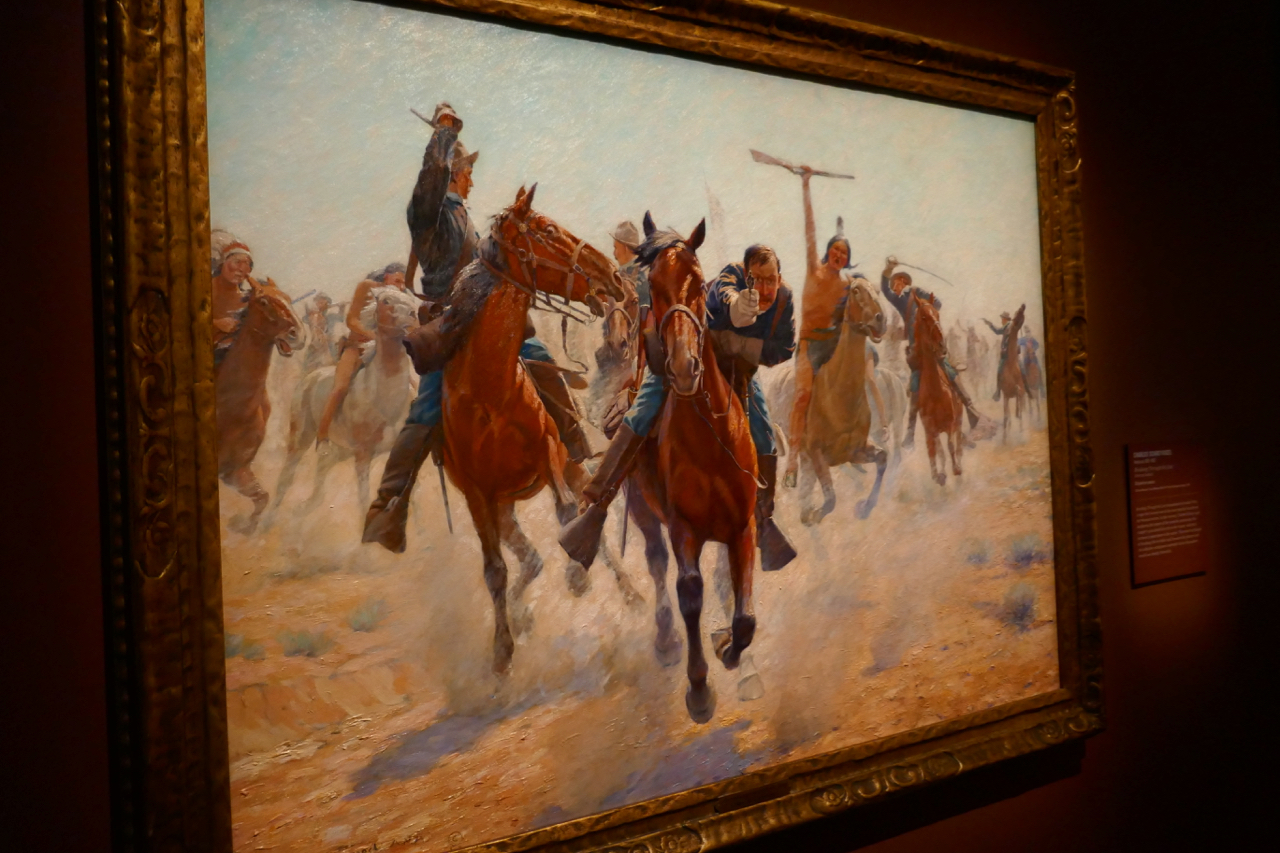 Finally, a Remington sculpture of which I saw a 9-foot tall version in Taos, N.M. last year. I say they are different.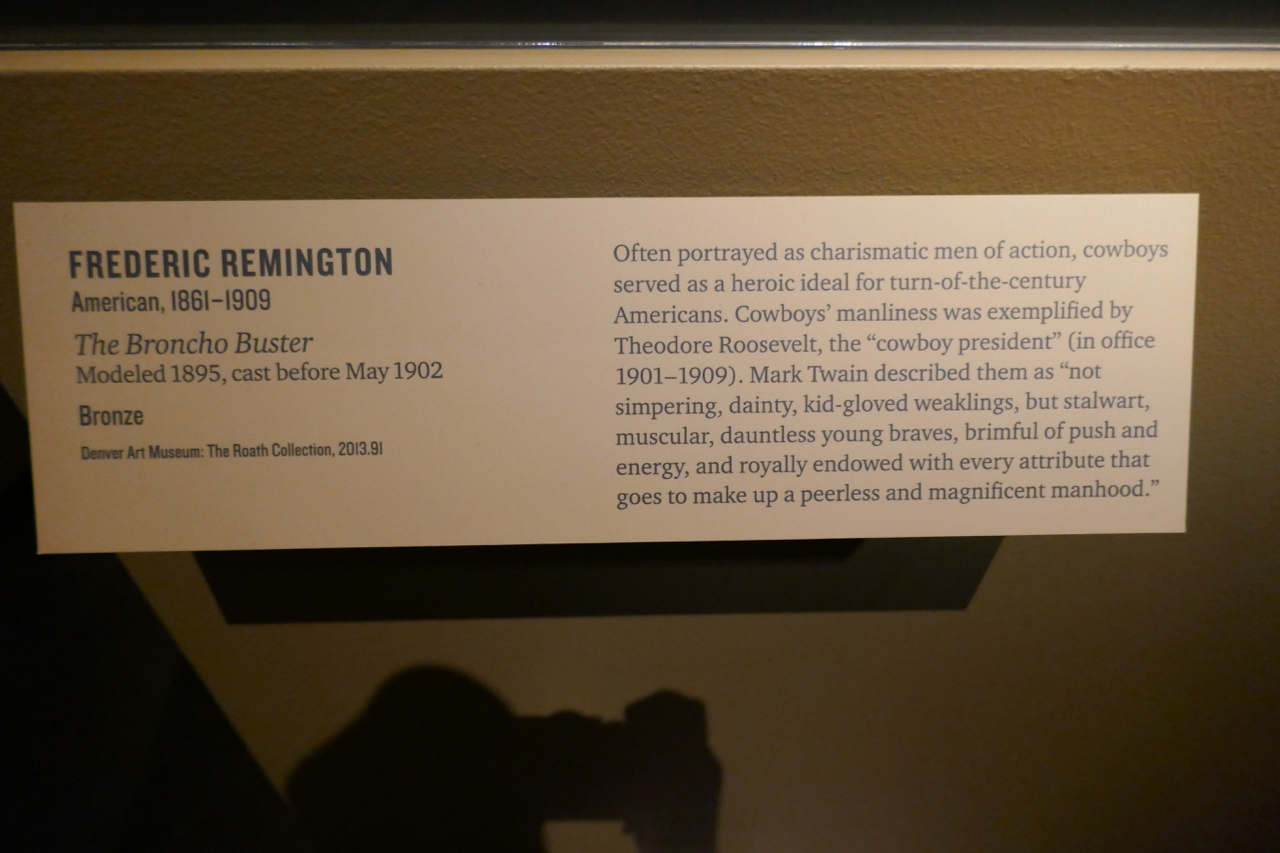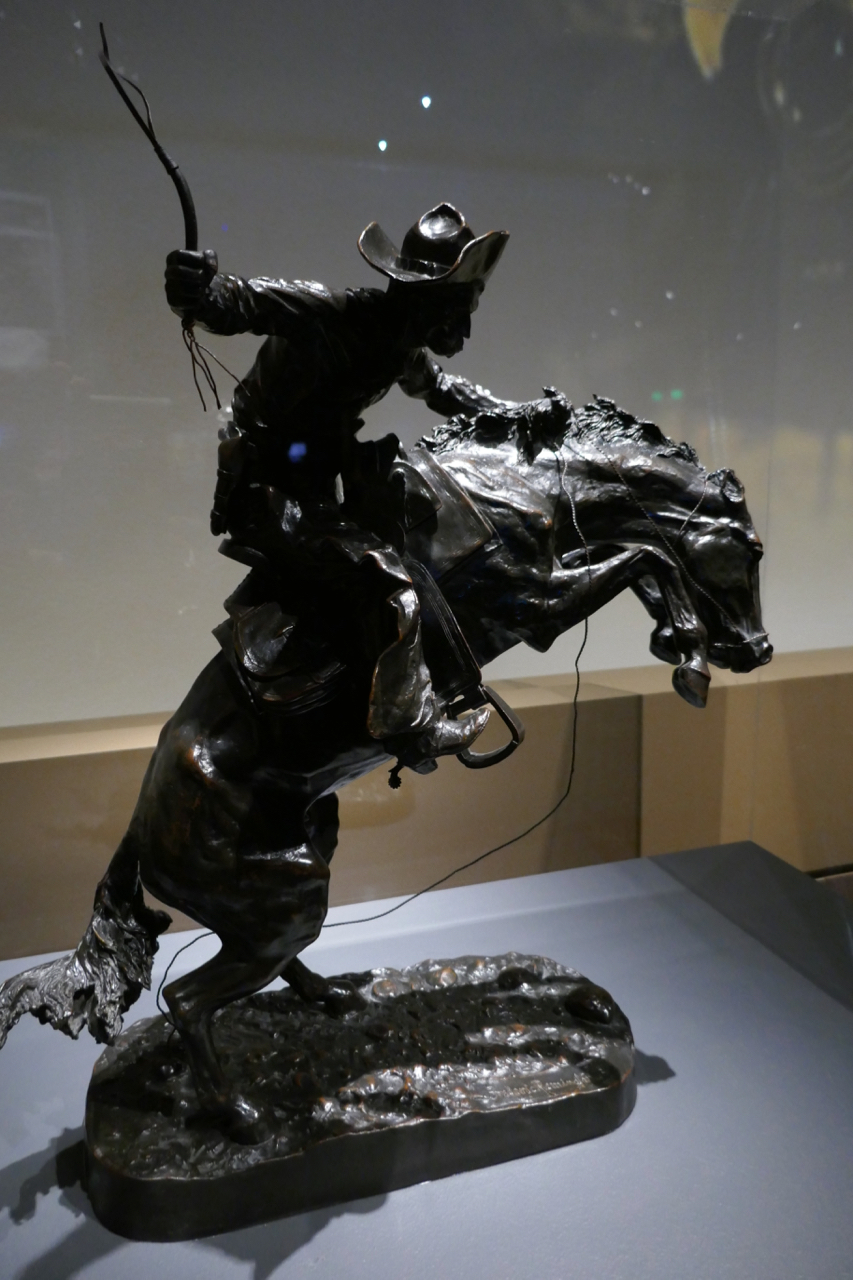 There was much more.  One circular room consisted of 3 large wrap-around screens.  The viewer sat in the middle while the screens played the shootout from The Good, The Bad, and The Ugly, squinty eyes flashing, trigger-fingers twitching, while Clint Eastwood, Lee Van Cleef, and Eli Wallach stared each other down.  And shot it out.  Suspense!
If you like the genre and you're in the area before the exhibit closes 10 September be sure to check it out.
Stick 'em up.